Organic Cotton Merino Dress NZ
designed to be worn slouchy and oversized, this super comfy tracky dress looks great worn over merino leggings or tights.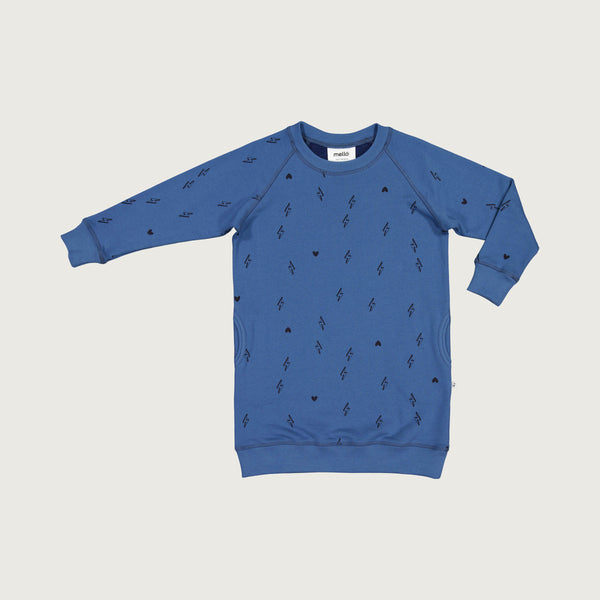 Merino Dress designed in NZ
This super cute, comfy and easy to wear cotton merino dress features raglan sleeves, a slouchy fit, functional side pockets, cover stitch detail, and rib bands to finish. this piece is perfect for kids with attitude. The dress has a relaxed fit, long sleeves, and finishes at the knee which makes it easy to wear and comfortable for children to move in.
Each tracky dress is made from our magical cotton merino blend of 65% organic cotton and 35% merino wool, which means it has the best of both amazing fibres! Knitted as one cloth, this garment has beautiful soft merino on the inside and all the qualities of cotton on the outside. This provides durability that can withstand the wear and tear of everyday use while being breathable, absorbent, comfortable, and long-lasting.
The ideal gift for your little one, our tracky dresses made from organic cotton and merino wool are sure to become wardrobe favourites. They look fabulous paired with Mello merino wool leggings and can be layered with jackets for year-round wear.
This adorable dress is available in two fabulous colours - view them today to find which one (or both!) is perfect for your miss Mello. Shop merino clothing and accessories with Mello Merino NZ today!
$94.95 NZD
A denim-coloured cotton merino dress with a lightning bolt print - a fun, fashionable choice for miss Mellos. The denim colour is a classic and timeless look that never goes out of style plus it gives a chilled, stylish look. The lightning bolt pattern adds a playful and trendy element to the merino dress NZ, making it a great choice for kids who love to express their individuality through their clothing.
$94.95 NZD
Our plum/constellation cotton merino tracky dress brings together the perfect balance of style and comfort. It's easy to wear, comfortable, and easy to care for, making it a fab choice for everyday adventures. Suitable for all seasons, this dress is a must-have in your miss Mello's wardrobe.
Why We Love Merino Clothing
Are you on the hunt for children's clothing from NZ that is the ultimate in style and practicality? Look no further than our Mello Merino tracky dress, made from our magic blend of merino wool and organic cotton!
New Zealand merino wool is an all-natural fibre that is the bee's knees when it comes to getting clothing that will keep your child comfy and cosy. Not only is it breathable, but it also wicks away moisture to regulate body temperature, keeping the little ones cool on hot days and warm on chilly ones.
When organic cotton and merino wool - two of the best natural fibres out there - are combined in a blend, they create magic! Mello clothing made from an organic cotton merino blend is not only good for the environment but also ultra-gentle for your little one's skin.
At Mello Merino, we are committed to creating high-quality merino kid's clothes, offering a gorgeous collection of merino clothing, tops, pants, accessories, dresses, sleep sacks, gift cards, and cotton merino tops for women in NZ plus we ship all over the world.
Long-Sleeve Tracky Dress from Mello Merino NZ
Our tracky dress is a fabulous choice for kids ages 2 to 8 years. With its simple design, relaxed fit, long sleeves and knee-length finish. It's super comfortable to wear and easy to match with leggings or woollen tights.
And the best part? Not only is it stylish, but it's also built to last! Merino wool in NZ is known for being strong and durable, so this dress - like all our clothing - can handle all the wear and tear that comes when kids are free to be kids.
When it comes to washing your clothes made from merino, it's a breeze. All you have to do is pop it in the washing machine on a warm or cold wash, gentle cycle, and use a wool detergent. Plus, it's wrinkle-resistant, so say goodbye to ironing!
Our cotton merino tracky dress is a fantastic choice for parents looking for a high-quality, comfortable, and versatile piece of clothing for their kids. Why not go ahead and add one to your little one's clothing collection so they can look adorable and feel comfy all day long!
Shop Mello Merino Clothing, Accessories and More
Not only is merino the best fabric to dress children in, but it is also New Zealand's most sustainable fibre for clothing. Using merino wool, we are doing our part to contribute to sustainable, slow fashion in New Zealand. Beyond that, all of our operations are conducted in a manner that is respectful towards the environment.
At Mello Merino, we have a beautiful collection of clothing made from the highest quality NZ merino. Whether you are shopping for your own little one or a gift to new or expecting parents, we're sure you'll find something special in our range of tops, pants, dresses, accessories, and more.
We ship our products locally across New Zealand and internationally. Shop with us today!